Wednesday 25th July 2007
York to Peterborough by train
and then to Wansford by bike
It is raining this morning when we look out of the window and as we eat breakfast the rain gets steadily heavier. We take our time packing and hang around for longer than normal and fortunately the rain eases off so we are able to cycle away without the need to don capes. We decide to do a bit more walking round the city centre and perhaps visit the Jorvik Centre - a museum recounting life in the Viking era. When we get there we find it is very expensive and not worth the money for a short visit - we have to catch the train soon after midday. So we occupy ourselves by looking round the city walls and visiting St Mary's church which has a piece of art called "The memory of Place" created by Keiko Mukaide.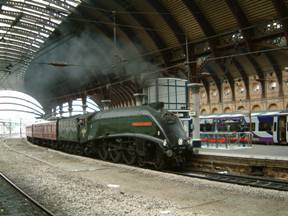 At midday we move on to the station and find the information desk to let the staff know that we have booked the tandem on the 12.30 train to Peterborough. However, while waiting in the queue I suddenly notice a steam train puffing it's way into the station - not a common sight. So I leave my place in the queue to take a photo of the 'Scarborough Spa Express' pulled by the 'Union of South Africa' (fortunately the queue isn't very long). With five minutes to go before our train arrives we are guided to the front end of the platform by very efficient station staff who also enquire where we will be getting off. The loading of the bike goes without a hitch and we are soon sitting in our seats eating our lunch which we had bought earlier. An hour and 15 minutes later we are arriving at Peterborough and staff are equally well organised in getting us off the train. I wish Arriva Trains and Virgin Trains were as efficient as this. It had taken us a week to get from Peterborough to York and just this short time to get back!
And so for the last leg of this week's journey. Peterborough is very well equipped with cycle paths and the majority of the 10 or so miles back to the B&B is on a path following the Nene Valley Railway and then the River Nene through a lovely country park. Eventually we reach the A47 trunk road just to the west of the village of Castor and have to suffer fast moving traffic for about a mile and a half. Then into Wansford and to the B&B where we had left the car - here we are invited in for tea and cake before we depart on the car journey back to Hinckley. Thank you Peter and Elizabeth for making us so welcome at Stoneacre B&B.
Mileage today 14.9 miles Total mileage so far 486.6 miles