Thursday 12thJune 2008
Bonar Bridge to The Crask Inn
I had planned a shortish ride for this section as I was aware that we would be climbing for most of the day. The second part of the day would truly be out in the wilds of Scotland. The first section of the route along the Kyle of Sutherland was in fact fairly flat and we didn't start to climb until we passed the Carbisdale Castle – a fairy tale castle which is now used as a youth hostel. It had scaffolding around it as we passed so there was no point in taking photos. Within a few miles of the castle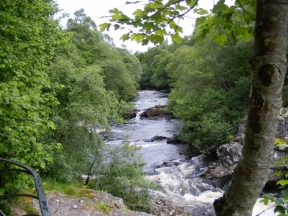 we had reached the Falls of Shin and walked down to falls beside the roadway. Apparently you can see Salmon leaping the falls here if you are lucky – we weren't in luck. After tea in the café we continued towards Lairg. It had been just a gentle climb during the morning and we ended up at the information centre which is housed in the Ferrycroft Countryside Visitor Centre beside Little Loch Shin. As well as spending time looking at the displays here we also went for a short walk on a forest trail which led us along the shores of the loch. After lunch we continued on our way towards the Crask Inn. The wind was against us for most of the 13 miles, it was uphill but not too steep, and for several miles the rain came down so we had to don capes. Not the best day for cycling! We eventually arrived at 3.30 and were welcomed in to get warm in front of the log fire with a cup of tea on the table. That was better!
The Inn is miles from nowhere but fortunately a good evening meal is served. Michael, the landlord turned out to be very interested in cathedrals and so it wasn't long before he had supplied us with several books on the subject. He knew far more than us. Three fishermen were also staying at the inn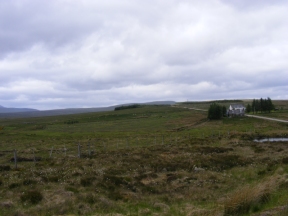 – soon they appeared with their day's catch of brown trout which were offered as an alternative for breakfast next morning. A strange smell in the hall, which Ann the landlady apologised for when we arrived, turned out to be a dead mouse trapped in the pedals of the old harmonium. Evening meal was a little late for us – we were starving by the time the first course was served at 8pm. It was an excellent three course meal and Ann had taken care to avoid onion which Christine can't eat. She really appreciated the cauliflower soup – a rare treat to be able to eat soup. By the end of the meal at 9.30 we were feeling much better!
Mileage 24.7 miles Total 395.2 miles