Sunday 15thJune 2008
Around Stromness
Almost on the last leg now. We felt like a day off from cycling, so first thing after breakfast we walked down to the town to enquire about car hire. There were none available so we then proceeded to the information centre to enquire about coach tours. When we got there we found that one had just left and that the only other possibility was to pick up a tour starting from Kirkwall.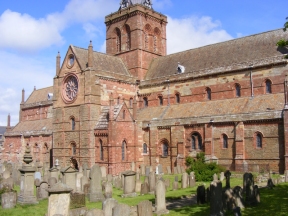 Fortunately there was a local bus service departing for Kirkwall in the next half hour, which we took, and our fortune continued when we found that there were still places on the tour. The tour commenced at 11 which gave us a short while to walk round the centre of Kirkwall and look at the outside of the cathedral amongst other things. The down side was that the coach would return to Kirkwall half an hour after the last service bus left for Stromness – maybe there was a solution to this.
The coach tour was excellent. Firstly we travelled along the south coast of the mainland overlooking the Scapa Flow and we were soon in Stromness where we were given over an hour to look round (not perhaps good news as we had already spent quite a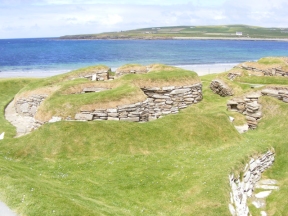 while looking round Stromness!) After this the coach took us to Skara Brae and Skaill House where we spent quite a while looking round the exhibition and the houses which are thought to be more than 4000 years old even predating Stonehenge. The village wasn't discovered until 1850 when a great storm washed away some of the land hence revealing the houses.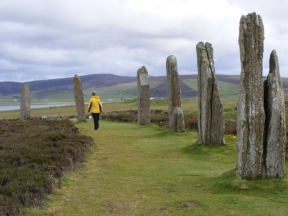 On the same site is Skaill House – home of the Lairds of Breckness – this house offers a unique insight into Orkney history. Unfortunately we had to dash round as the coach was due to leave shortly. We then proceeded to the stone circle at the Ring Of Brodgar, and from there to the standing stones at Stenness. The time was 3.30 and the service bus was about to depart from Kirkwall. The coach driver dropped us off on the main road from Stromness to Kirkwall and we hailed the service bus as it passed a few minutes later – excellent timing.
Mileage 0.0 miles Total 458.2 miles