Thursday 2nd September 2004
Mantua to Suzzara
Our free map of Mantua Province indicated that there was a cycle track on the north bank of the Po from where the Mincio joins it ( a few kilometres north of San Benedetto) to Dósolo (upstream). Because we didn't have a strict itinerary we had time to spare to venture upstream before starting the trek towards the coast. We left Mantua, travelling south, and joined the Po near Bogoforte. It looked as though it was going to be very hot again – there was hardly a wisp of cloud in the sky. We soon reached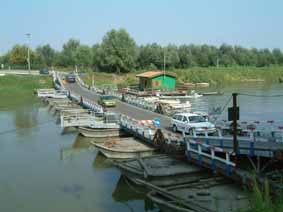 the Po and climbed the embankment using a short track through a field. There was a tarmac track along it which was in reasonable condition. It was quite high above the river (the height of a house or more) and gave us a good view of the surrounding countryside. The disadvantage was that there was little shade. If the river floods to this level it must be an incredible sight as the embankments on either side are not immediately adjacent to the river – they are quite often hundreds of meters apart. It is hard to imagine the river as we see it now, at about 100m wide, covering such a large area. We carried on upstream until we reached the river Óglio and crossed a pontoon bridge at the Torte d'Óglio (nothing to do with last night's cake!) There was a workman's hut near the top of the embankment with flood levels marked on it – the highest was for the year 2000. Having crossed the Óglio we carried on up the Po until we got to Cizzolo at about 11 when we stopped for liquid refreshment. We were greeted by a Nigerian travelling salesman who desperately tried to sell me a pair of socks. Our excuse of no room eventually worked but in response to requests for money we bought him a drink. From Cizzolo we carried on upstream to cross the bridge over the Po at Dósolo to the town of Guastalla where we had our lunch break followed by a well deserved ice-cream. The bridge was probably 2km long which indicates how wide apart the embankments are in places.
The downstream trek now began but first we left the river and made our way through Luzzara to Suzzara where we hoped to find a B&B for the night. We found an Albergo instead which charged €62. The inside of the hotel had paintings covering almost every available wall space – the owner turned out to be a "bit" of a collector with a good eye for a picture.
In Luzzara we had come across an old monastery which is now used to house a collection of Naïve Art. It was closed but the notice indicated it would be open at 10 tomorrow.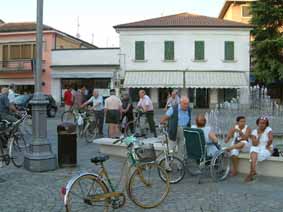 As it was only 6km back we decided to go there first thing the next day.
The evening meal was obtained by a visit to the Pescheria for a rice and seafood salad – excellent! This was eaten sitting on a stone bench in the main piazza alongside the water fountains. There were many other people there congregating for their evening chat – but no one else was eating. When do Italians eat? It was a meeting place for the older men – they cycled in on their bikes – and a meeting place for the town's immigrant population. We also found a cake shop that sold us some lemon cake for €2.50 – six slices – some for today and some for tomorrow.
Mileage today 39.4 Total mileage so far 133.3.