Friday 10th September 2004
Chioggia to Venice and back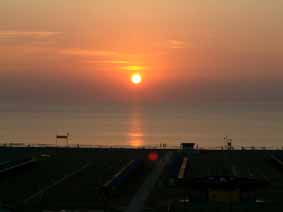 We caught the 9am ferry this morning from the quay between Sottomarina and Chioggia – just 1km away from the hotel and an easy walk. It had been a beautiful sunrise but by the time we got on the boat 2 hours later the cloud had come in and we got quite cold on the open top deck of the ferry. By the time we got to Venice at about 11 most of the passengers had migrated to the lower deck leaving a few stalwarts – mainly foreigners – in the open.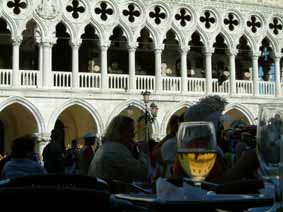 Venice was packed. To make matters worse the majority of St Marks was cordoned off in preparation for the premiere of "The Shark" which was being shown on a giant inflatable screen in front of the King of Spain later that day.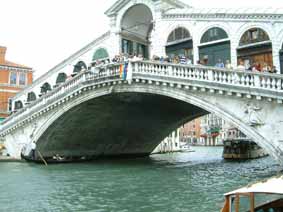 We didn't spend too much time in this area, opting to walk to the north of the island where there were fewer people. There were lots of street hawkers and the majority of shops were aimed at the tourist – jewelry, Murano glass, bars and cafes, clothes etc, etc. We had a good walk round before returning to the ferry for the 5pm sailing.
One of the islands that we had passed en route – called "Litorale di Pellestrina" – was highly decorated with flags celebrating a special day to do with the Virgin Mary. Tomorrow we will be cycling along this island and it will be interesting to see the decorations from closer quarters. We got back to the hotel at 7.00 and had a very nice evening meal there for €15 each plus a bottle of wine for €6 (and a bottle of water €2). I should have ordered just a glass of wine because having drunk ⅔ of the bottle it was quite a struggle to make it up the stairs to the bedroom. It wasn't long before we were asleep that night!
Mileage today 0 Total mileage so far 392.7