Sunday 12th and Monday 13th September 2004
Cavallino to Hinckley
We awoke several times in the night feeling rather chilly. At one point we decided to get our cycle capes out and drape them over us for extra insulation. We could have done with a blanket.
The bread shop on the camp site opened at 8 – no Sunday chiuso here. It was nice
to get fresh bread for our sandwiches. Yesterday we had bought 6 croissants from the supermarket. They were sealed individually and had a use by date well in the future. At least they will keep "fresher" to eat on the coach – but the two we had for breakfast weren't brilliant! We boiled up the eggs we had bought yesterday to have with our sandwiches – later we discovered that they were still on the runny side and consequently difficult to eat without making a mess.
At 9.30 we got a message to say that the coach was running ahead of schedule and, providing everybody was present, it would be leaving almost 2 hours early just before 12. We had planned to either have a ride or go for a swim but with this news and the sight of storm clouds gathering on the horizon we decided to abandon both of these ideas – our baggage would have to be loaded soon after 11 anyway.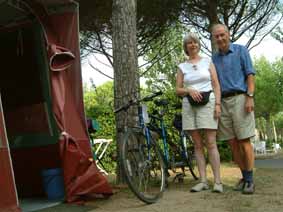 The coach arrived, everything was unloaded and then the loading began. The tandems were the last to be secured. Just as this was completed the heavens opened and we had our first Italian rain. We left just before 12 and got held up in a terrific traffic jam around the area to the north of Venice. By the time we got to Verona to pick up John and Jean we had lost all the time advantage we had gained by leaving early. And so we settled down for the long trek home. The daylight hours weren't too bad with our panoramic viewpoint at the front of the coach – but the night hours seemed an eternity. We got to Calais to see the ferry just leaving so we had to wait almost 1 ˝ hours for the next to depart. Storm force winds were forecast for lunchtime – hopefully we can make it to Dover harbour before it will beclosed. It was quite choppy and the crossing took ˝ hour longer than usual because of the winds but we made it. We eventually reached Leicester services just before 3 as another very dark cloud was making its way over Hinckley. We waited for this to pass in the shelter of the service station – it was one of those sudden autumn showers where the heavens open. We met another 3 or 4 showers on the way back to Hinckley but our cover was not so good and so we arrived home rather wet and cold.
It's been a great holiday. The Italians have been very friendly and helpful to us and we have met some lovely people and seen some great sights. The Italian motorist on the whole was much better behaved than I had imagined – and dare I say took more care of us than the English motorist. Cycle lanes are much more common than here, and many more people ride bikes. It is even common to have cycle lanes going the wrong way down one way streets to allow cyclists short cuts for one way systems. We would soon go again if it wasn't so far and if the temperature wasn't quite so hot!
Mileage today 11.5 Total mileage for the trip 427.0 miles