Days 1 to 3
St Malo to Angers
Thursday 11th May St Malo to Fougères
Planned Route:
D155 + D6 St Malo to St Méloir des Ondes; D6 to coast; D155 + D797 to Pontorson;
D112 to Argouges and Coglès; D15 + D103 to Montours; D17 to Fougères
Distance 50.5 miles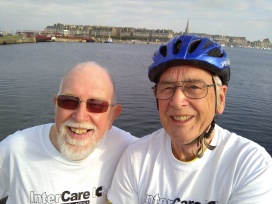 The crossing from Portsmouth to St Malo was like a millpond. The ferry docked at 8.15 and within 30 mins we were off, through customs and were posing for pictures. We made good progress during the morning ride with a crosswind which was slightly in our favour. By lunchtime we had reached Pontorson (28miles) and we sat eating our baguettes in the salubrious setting of the town loos which had two benches just outside. The weather had been perfect all morning.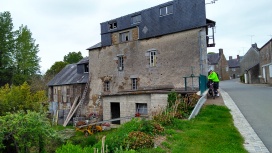 We were now travelling down quiet lanes and through small villages with hardly a person in sight. We stopped in Agouges to take photos of an old mill and a cider press but as we left here it started to rain and by the time we reached Fougères the rain was quite heavy.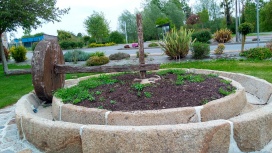 A lovely hot shower at the hotel worked wonders.
The stats for the day were 52.3miles : 10.1mph : 1981ft climbed
Friday 12th May Fougères to Craon
Planned Route:
D179 to Vitré; D29 to Le Pertre; D33 + D142 to Craon
Distance 44.0 miles
We have been so lucky today. The forecast was for heavy showers, however the first at 11am was while we were partaking of thé au lait in the Tabac at Vitre and two more showers en route came conveniently with large trees to shelter under.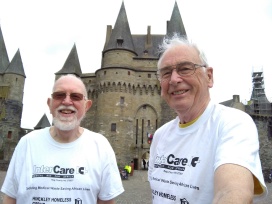 The first photo stop was at Vitre just 19 miles from Fougères. At the top of a steep hill is a grand castle (now a hotel) so entry into the castle grounds was free. As rain threatened we disappeared into the Tabac for tea.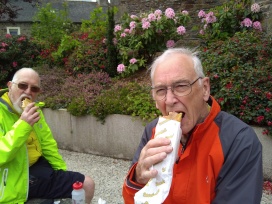 Lunch at Pertre was in far better surroundings than yesterday by an ancient church with flowering shrubs all round - the middle of the day and only 11 miles left to travel. However, in the afternoon the storm clouds gathered and the wind increased slowing us down on the last stretch.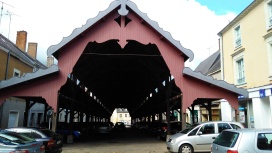 At Craon we eventually found a Tabac in the market place where the locals generously gave up their seats at the sight of two elderly gentlemen limping towards them. The covered market was very large and unusual. Our host was a lady slightly older than us who did not understand TW's french with the Geordie accent. Despite this she arranged a meal at a local restaurant which she insisted in guiding us to it in her car with us in hot pursuit on our bikes. The venue and meal were excellent and remarkable.
ps Apologies that the tracking is not working properly and sometimes not being updated to the end of the day.
The stats for the day were 44.1 miles : 10 mph : 2385 ft climbed
Saturday 13th May Craon to Angers
Planned Route:
D229 + D193 + D71 to Segré; D961 to La Poueze; D56 to St Clèment de-la-Place & Angers
Distance 41.63 miles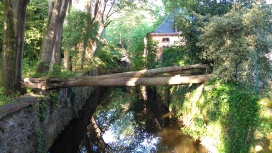 Last night's chambre d'hôte was in lovely surroundings, by a river in the centre of town. After a good breakfast TT handed over the cash for the stay and we got ready to depart. Mademoiselle came rushing over, cash in hand, saying we had paid already by card. The weather was much more settled and we did not get rained upon all day. The first major village of Chatelais that we passed through had the remains of the old castle entrance on both sides of the road. We then proceeded to Segré where we bought freshly made ham and cheese baguettes and cake. The roads in that area were dead straight but had a slight tendency to undulate dramatically necessitating bottom gear on occasions.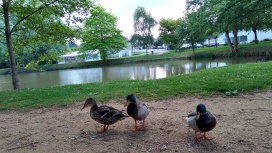 Lunch was taken alongside the duck pond at Vern d'Anjou. This just left 15 miles to Angers.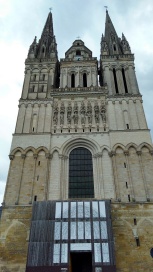 This town is very well equipped with cycle tracks and getting to the centre was made easy. After more tea we visited the Cathédrale Saint Maurice a massive structure standing 75 metres high. We enjoyed another excellent meal to round off the day.
The stats for the day were 43.6 miles : 10.6 mph : 1879 ft climbed