Days 16 to 18
Narbonne and trip home
Much cooler today - thank goodness. Probably mid 20's by lunchtime. We aimed to do a circular trip which involved climbing a high limestone hill just south of Narbonne called La Clappa.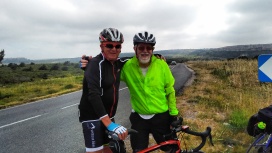 Tremendous views from the top and our first view of the Med. A French cyclist stopped to talk us and took our photo. From there it was a lovely downhill ride to the coast.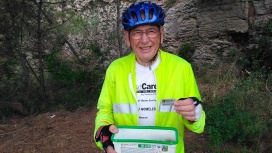 TT had an errand to do at this point. He had brought a Geocaching Travel Bug which needed to be hidden - but first to find the cache which was just off route behind a large rock. The object of the travel bug is to set it a mission - in this case find its way back to Leicestershire. Other Geocachers will pick it up and hopefully transport it in the right direction.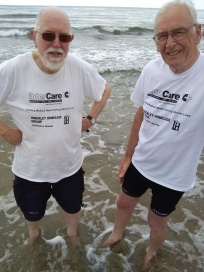 We then moved on a short distance to the beach where we paddled in the Med and took photos to prove we made it! The ride back was much flatter, firstly utilising cycle paths along the coast into the village of Gruissan and then following the Canal de la Robine towards Narbonne. The two boulangeries we tried in Gruissan were sold out so we bought our lunch at a supermarket on the outskirts of Narbonne and ate it in the Cours de la Republique in the centre alongside the canal.
After lunch we visited the Cathédral St-Just and St-Pasteur which has the highest Gothic choir in the south of France. TW also visited an archeological museum with which he was very impressed. We rounded off the afternoon with ice creams before returning to the hotel.
The stats for the day were 30 miles : 10 mph : 1870 ft climbed
Saturday 27th May Narbonne plus coach across France