TANDEM TRIPS
We travelled to Italy in late August 2004 using the Bolero Coach to drop us off at Verona and pick us up two weeks later near Venice. In 2005 we toured around Wiltshire looking at the villages that Tony's ancestors came from. I will try and get round to introducing pictures from this trip in the family history section of this site. In 2007 we started a tour of the UK travelling from the coast near Canterbury to Berwick upon Tweed calling in at Cathedrals along the way. In 2008 we completed this tour by travelling from Berwick upon Tweed to the Orkneys.
You can access detailed information on the trips by either selecting the chapter page and clicking the chapter number or by selecting the map page and clicking the number.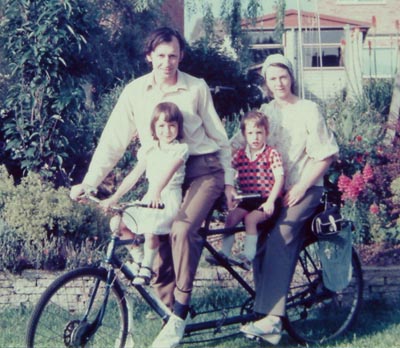 One from the archives! Taken in about 1976 with Cara and Peter on the crossbar seats. The tandem is an "F.C. Parkes" and must have been made in the early 50's -- We used it up to 1999 and still have it!
Page updated 25th June 2008