Monday 21st May 2007
Gillingham to Blackheath
Rochester was only a couple of miles down the road so we were soon standing at the steps of Rochester Cathedral.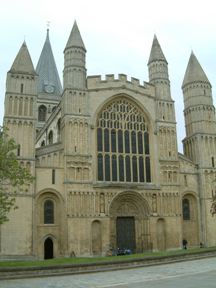 There was a service in progress in the quire area - King's School Rochester were there - so initially we were limited to walking round the Nave. Rochester Cathedral is the second oldest having been founded in 604AD by Bishop Justus - the present building dates from 1080. We were to find out during this trip that the wealth of a Cathedral was linked to the number of pilgrims it could attract. At Canterbury pilgrims came to visit the tomb of Thomas Becket where it was reported that many miracles took place. Here at Rochester the Cathedral became a major place of pilgrimage in the 13th century following the death of William of Perth (a Scottish baker) who was murdered nearby. Again miracles were reported. Visit the website for the Cathedral using this link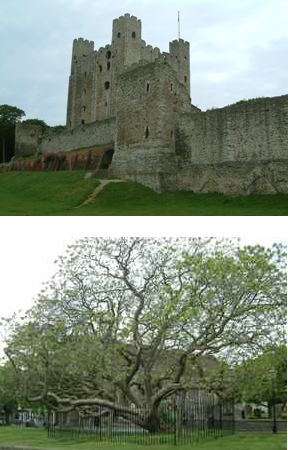 As the service was still is progress we made our way to the refectory for early morning refreshments, stopping to look at the castle at the west end of the church and also the magnificent Catalpa Tree (an American Indian Bean tree which is about 100 years old) just outside the west door.
We returned to the Cathedral after a short break to look at the Quire and and other areas. There is a lovely exhibition on at the moment depicting the creation story in embroidered panels and the words written out in modern language.
Time to move on again. Crossing the Medway we worked our way north and east towards the Thames, through Gravesend and on to Dartford where we had a jacket potato for lunch to try and get warm. It had been drizzling for most of the morning since leaving Rochester and we were damp and cold. Eventually we picked up the cycle track which runs close to the River Darent - rather loose gravel on this one but reasonable to cycle on - and followed it to where it joins the Thames from where we had a distant view of the grand Queen Elizabeth bridge which takes the M25 across the Thames at the Dartford Crossing.
Cycling on this path was hard work -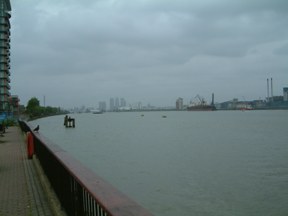 the gravel made our progress rather slow - so after a few miles we decided to abort the path and take to the roads again using what is known as the London Cycle Network. The roads on this network are marked with a good width of cycle track, so although there is a lot of traffic, it is still reasonably safe to cycle. Eventually we reached the Woolwich ferry crossing where we sat on the quay and had a bite to eat, before we made our way to Blackheath and the B&B (getting lost again in the process!). I must remember to take an A-Z of London if I ever cycle in the capital again.
Mileage today 40.5 miles Total 124.8 miles