Tuesday 22nd May 2007
Blackheath to Turnford (near Cheshunt)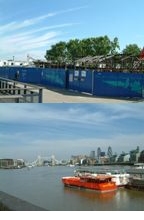 A lovely sunny day after yesterday's rain with temperatures forecast to be about 24oC. The news yesterday morning had all been about the fire on the Cutty Sark so this was to be the first port of call. We couldn't see very much but the smell of burning was still present. From here we followed the River getting marvellous views of Tower Bridge as we approached Southwark and the first Cathedral stop of the day.
The church at Southwark dates from about 860AD when St Swithun,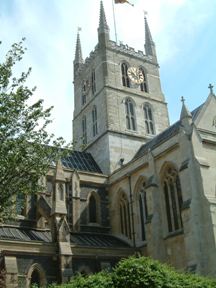 the Bishop of Winchester is believed to have set up a college of priests on the site. As with many of these buildings Southwark suffered from disasters througout it's history. Fires extensively damaged the building in 1212 and 1390 and in 1468 the nave roof collapsed and was rebuilt in wood. Some of the intricate bosses from the ceiling can be see displayed at the west end of the cathedral. You can find out more about Southwark Cathedral by visiting their web site
From Southwark we made our way to the Millenium Bridge passing the Golden Hind on the way. Here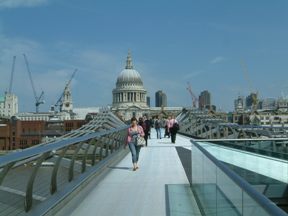 we got our first view of St Paul's Cathedral. No photography was allowed inside this great building, unfortunately, so if you want to see pictures of this go to their website and then click on "About St Paul's". A building dedicated to St Paul has existed here from AD604. The present building, which is the fourth, was built after the third was destroyed by the Great Fire of London. It was designed by Sir Christopher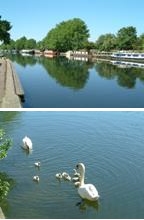 Wren and erected between 1675 and 1710.
The next objective for the day was to find the Lea Valley cycle path - a traffic free route running from Wapping (east of Tower Bridge) to Waltham Abbey and beyond. For the next hour (which included a lunch stop) we frustratingly tried to find the start of this route and were just about to give up and purchase an A-Z when we came across the notice for the Lea Valley Walk. We had a very pleasant (even bordering on being too hot) afternoon cycling along the well maintained cycle paths of this river but were glad to reach our destination just north of Cheshunt.
Mileage today 35.7 miles Total mileage so far 160.5 miles