Thursday 24th May 2007
Duxford to Wentworth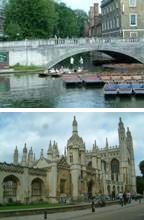 Cambridge is to be our first stop today. Hopefully it should be well provided with cycle paths even if parking for the tandem may be limited with bikes occupying every available inch of railing space. We soon reach the town and park up beside the River Cam for a quick break. Surprisingly perhaps there isn't a cathedral in Cambridge but there is the famous King's College Chapel to go and visit. Information about the chapel can be found at their website. We are not going to make the same mistake as yesterday and miss out on tea stops - so off to find a cafe and probably the most expensive pot of tea of the whole trip! (barring motorway cafes)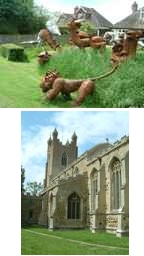 Time to move on. We need to get to Ely in time to have a good look round the cathedral. Just outside Cambridge in the village of Histon we pass some sculptures in the front garden of a house, and then a little later arrive at the church in the centre of Cottenham - which has very unusual turrets on the top of the tower - where we sit on the bench in the churchyard to eat our lunch. A lady very kindly opens up the church hall for us to use the toilet and warns us to be very careful about leaving our bike unsupervised as things tend to disappear.
After lunch we move on towards Ely, passing within a mile of where we are to stay for B&B for the night, but then carrying on for 5 miles into the centre of the town. With 3 miles to go we start to follow a lady riding a bike with a very rusty chain.
She seems to know which side of the road the cycle tracks are on - so we catch up, get chatting, and she guides us in the rest of the way to the cathedral.
A lack of tea again today - the cafe at Ely Cathedral provides us with only the second pot of the day. The cathedral was founded by St. Eteldreda in AD673 but destroyed by the Danes and rebuilt in 1081. In 1322 the central tower fell down and this was rebuilt in the shape of an octagon by Alan of Walsingham. On my picture this octagonal tower is hidden by the West tower at the front of the church. There is a very fine museum on the first floor which shows the history of stained glass windows - well worth a visit. Visit this website to see pictures of some of the exhibits. The history of the cathedral and other pictures can be seen at the cathedral website.
After our visit we retrace our steps back to the village of Wentworth where we are booked into the B&B for the night. Unfortunately there is no pub in the village so we have to go out again on the bike in the evening to the nearest pub in Witchford. Not everything goes to plan - they mislay our order and we eventually get a meal after a one hour wait - oh well they did give us drinks on the house for our inconvenience.
Mileage today 34.8 miles Total mileage so far 233.3 miles