Friday 25th May 2007
Wentworth to Peterborough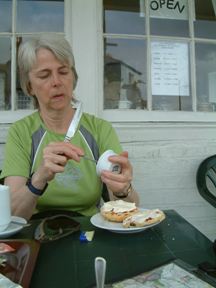 A fairly short ride today of just over 30 miles to Peterborough to see our last Cathedral of the week. We had to use the busy A142 to begin with for about 2 miles but soon got onto quieter roads in this very flat area of the country. Roads go for miles without a bend following the man made drainage channels of the Fens. In Chatteris we come across the Old Bakehouse which tempts us in for our first tea break. The ladies at the table next to us get chatting - they hadn't been to the cafe for a while and one commented that she had lost a stone since she stopped coming on a regular basis. Then the cream tea arrived on her table - this was too good to be missed - so our order was changed to incorporate scones, jam and cream!
On to Peterborough now. We could see that the clouds were gathering in the west and so we made haste to arrive before we got too wet. We didn't quite make it in time but soon found a cafe in the dry to have a warming cup of tea. Lunch was eaten in the High street under the shelter of the large plain trees - every now and again the wind would get up shaking the leaves and giving us a shower of heavy droplets of rain - but we managed to keep fairly dry. On to the Cathedral for 2pm for a guided tour. This was very informative and very interesting.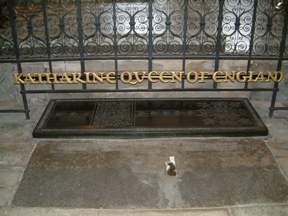 Peterborough is apparently one of the poorest cathedrals and the story goes that in order to provide more funds one of the monks stole the relic of St Oswald's arm from Bamburgh. Relics meant more pilgrims - pilgrims meant more money! St Oswald was King of Northumbria and he is said to have re-introduced Christianity to the north. When he died in battle in AD642 his body was mutilated and various parts removed to various localities in the north. Visit this website to find out more about St Oswald or visit the cathedrals website to find out more about the cathedral including how it came to be the burial place of two queens of England - Katharine of Aragon and Queen Mary. Queen Mary's body was later moved to Westminster Abbey by James I.
Mileage today 31.8 miles Total mileage so far 265.1 miles