Saturday 21st July 2007
Southwell to Lincoln
A short ride today into Lincoln - the weather forecast is much better but even so it is drizzling as we leave and capes are again required as we ride into Newark. By Newark the rain has eased a bit and we are able to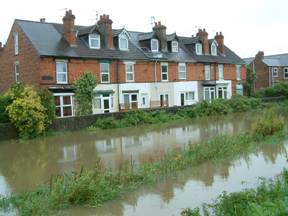 roll up our capes and rely on our shower proof clothing to keep us dry. Fortunately the roads aren't flooded unlike the west midlands where floods have completely cut off the town of Tewkesbury. We still have several miles to go when we catch our first sight of the cathedral standing high up on the only hill for miles around. We arrive on the outskirts of Lincoln just after 11 and manage to find a pub that is open and willing to serve us cups of tea. We then continue along the cycle track into the centre of the town passing the swollen River Witham on the way.
As we approach the centre of the town we find that they have put on a special regatta to celebrate our arrival - the lead boat is just making its way around the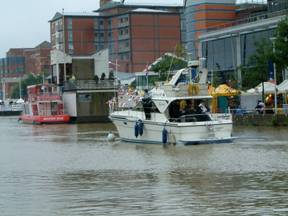 marina and another has a band playing on deck. Fireworks are promised for the evening. As we pass by the local radio presenter on the quayside doesn't notice us so we are not asked for an interview. We move on pushing the laden tandem up the steep incline which leads to the cathedral up the aptly named "Steep Hill". We are on the lookout for a shop selling sandwiches - but instead we find a tea room with roast lamb on the menu - £6.99 including sweet. An offer not to be missed! Roast lamb, roast and new potatoes, yorkshire pud and a selection of veg - excellent value. Then rhubarb crumble to finish for me and sherry trifle for Christine.
So on to the cathedral and a guided tour. A cathedral at Dorchester, near Oxford, originally controlled the largest diocese in medieval England stretching from the Thames to the Humber. However William the Conqueror instructed that the Bishopric be moved to Lincoln and so a new catherdral was built and eventually consecrated in 1092. Lincoln Cathedral suffered fire damage and was even hit by an earthquake in the 1100's and eventually was reconstructed starting in 1192 by St Hugh, Bishop of Lincoln. Again it suffered with the collapse of its central tower in 1237 and a new one was built. Over the following 150 years the three towers were increased in height and spires added to each. The central spire blew down in 1549 and now all three towers are spireless.
Later on in the afternoon we return to the cathedral to attend Evensong - I think I was expecting to see choir boys and girls, however it turns out to be an all adult choir. The music and arrangements are, in the main, modern and unfamiliar to us. Of the two hymns that the congregation sing, one is completely new to us (words and tune) and the other unfamiliar words to a well known tune.
Mileage today 25.1 miles Total mileage so far 360.6 miles