Sunday 22nd July 2007
Lincoln to Croxton
Other cyclists staying in the guest house awoke early this morning - they are taking part in a cycle race or was it a triathlon? They have long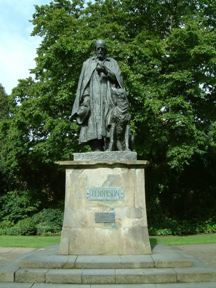 since departed when we go down for breakfast soon after 8am. To begin the day we decide to go into the centre of Lincoln again in case there were any shops open selling sandwiches. There aren't - the city centre is dead. We have another look at the Cathedral building, as I had forgotten to answer a BCQ question yesterday (British Cycle Quest set by the CTC). It asks "whose statue stands in the north east corner of the cathedral grounds?" Don't look too closely at the photo if you don't want to know the answer! Mission accomplished we set off northwards.
This is where I make the first mistake of the day - I had originally planned to carry on directly north from the Guest House and pick up cycle route 1 about 2 miles north of Lincoln - this route would take us eventually over the Humber Bridge to Hull. In the event we see route 1 signed from the centre of the city so I decide to follow this instead. We are travelling north west and two miles from the centre we spot route 1 signed to the right down a muddy overgrown track through a wood. Not ideal tandem conditons. Do we retrace our steps (2 miles back) or do we continue in the hope of finding a road to the east? This bit of the road is off my map so it is time to toss the coin. We opt to carry on ... and on and on. We are joined by cyclists in racing attire who appear from a lane on the left, having come up a steep hill. Surprisingly we are going at the same speed as they are - it must have been a very steep hill that they had just climbed. Eventually, after perhaps another 3 miles, we find a turning to take us in the right direction and after another couple of miles or so we pick up route 1 again. We had perhaps made the wrong decision by not going back but either way we have added quite a few miles to our intended journey.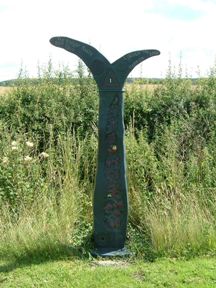 The route passes through the villages of Nettleham, Scothern and Stainton by Langworth and then on through Wickenby eventually picking up a long straight road into Market Rasen with a cycle route marker on the roadside. This is obviously the haunt of the local racing fraternity of motor cyclists - who delight in racing by at full speed, some coming too close for real comfort. There is a footpath along this road so we take to this for safety. However before completing half a mile the steering of the tandem suddenly becomes very heavy - we have a puncture - the first for over a year! Not far away is a lane which we pull into to replace the inner tube. We also manage to discover exactly where the hole is in the old tube as there are many deep puddles around to immerse the tube into! The offending thorn was not found - it must have come straight out again. Another half mile brings us into Market Rasen and we discover a Tesco Supermarket which provides us with sandwiches, cake and fruit for our tea - we want to find a pub lunch today as it is Sunday and finding an eating establishment later in the day in the little village of Croxton is probably a no-goer. And then we continue into Market Rasen and, finding a delightful coffee shop and bistro (Jossals) selling Roast Sunday lunches, we tuck into roast beef and Yorkshire pud with all the trimmings.
Leaving Market Rasen we continue our journey northwards through Willingham Forest (more of a wood than a forest!), into Walesby and then up onto the Lincolnshire Wolds. This is probably the highest area of Lincolnshire at 150m above sea level - not that high really. We stay at this level for the next 6 miles eventually descending into lower land on the south side of the Humber. We are far too early to arrive at the B&B so we call in at Kirmingham - all we find here (conveniently) is a park bench - so out comes the crossword. Just before 5 we move on into the tiny village of Croxton and locate the B&B from out of the 10 or so houses in the village. But nobody is in. We sit on the doorstep to wait - the cat comes and joins us - out comes the crossword again. Half an hour later we decide to try their phone - fortunately we get transferred to their mobile. "This is Mrs Thomas and we are booked in to your B&B tonight." "Oh - how far away are you?" "We are sitting on the doorstep." ("Oh my God" from a voice in the background). "Oh dear - sorry, I'll sort something out and get back to you." It turns out that the owners, having forgotten us, are on their way back from Cornwall and they still have 3 hours to travel! But they have relations close at hand so after a couple of phone calls, and another wait of half an hour, Mum and Dad turn up with the key and let us in. Fortunately today has been a dry day.
Mileage today 43.3 miles Total mileage so far 403.9 miles