Saturday 28thAugust and Sunday 29th August 2004
The journey to Italy
We awoke just before the alarm at 5.30. It was a beautiful morning and there was no need to ring our son Peter who had volunteered (been asked) to take us to Leicester Forest East service station in the event of rain.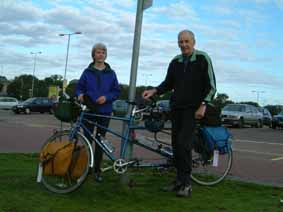 We had to be there for 8.30 and it was about one hours ride. We had however been asked to arrive ˝ hour before the scheduled time and being super cautious I thought we had better allow some time in case of punctures on the way. We therefore set off at 6.35 and, as is often the case, arrived without incident and had an hour to wait. It is interesting to watch the faces of motorists when they see a bike arrive in the service station – which lane did they come down?
The coach was only slightly late and the tandem was soon loaded onto the top deck of the Bolero (Bike Express) trailer and we were away. We were in the front seats of the upper deck of the coach and John and Jean – also with a tandem – were sitting alongside us. They had come from Garstang leaving at 4.30 in the morning having had to make a 100 mile car journey to pick up the coach on the M1 at Wakefield. Being a typical biking family they have two more tandems at home – we only have one other!
Going down the M1 we soon noticed warning signs that the M25 was closed at J27-28. There had been a bad accident and it turned out that there was heavy traffic congestion. Unfortunately we had to pick up more passengers either side of the accident and so there was no way that we could avoid getting caught up in the jams. We ended up by being 2 hours late at Dover and had to catch the 4pm sailing to Calais. This had a knock on effect on the coach drivers as they have to comply to strict laws. A relief driver was due to take over just outside Milan but in the event he had to travel north and take over driving of the coach just after we had passed through the Gothard Pass. We eventually arrived at our destination at the Verona East exit of the A4 motorway at 11am on Sunday instead of the predicted time of 9.30am. It was a long night and although the seats were super recliners we couldn't get comfy enough to do anything other than catnap.
The mileage so far was 11 miles on Saturday to Leicester.