Sunday 29th August 2004
Verona to Villafranca
John and Jean also got off at Verona but they were travelling to a resort south of Rimini whereas we had planned to generally follow the River Po and pick up the coach two weeks later at a camp site near Venice. We both had the small town of Zévio as our first aiming point – there are only a few bridges across the River Adige and one of them was at Zévio. The map provided by Bolero clearly showed Zévio as being straight ahead but within Ľ mile we had to deviate because of extensive road works. We were lost already and about to find out how poor road signs are in Italy! We soon found out that the bridge across the river at Zévio was closed and the signs pointed us in ways that we didn't want to go. Christine asked the way in her best Italian.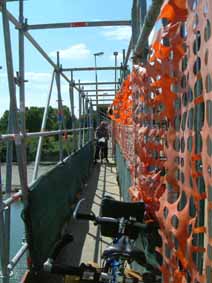 The answer was confusing – however the friendly Italian jumped into his car and led the way to a road junction ˝ mile away where he directed us down a road which said the road to Zévio was closed. Our Italian wasn't up to asking if bikes could get through. We proceeded until a roundabout – about half way there. Bikes and cars appeared to be coming up the road from Zévio however John and Jean decided not to risk it and to take the road to the north of the river crossing at a point further to the east. We wanted to go west and there was no option but to go and investigate the bridge. We waved goodbye. The bridge had a gap of at least 15 feet in the middle – no go for cars – but alongside was a narrow walkway constructed from scaffolding and just wide enough to walk the bike. Well it would have been just wide enough if there was nothing coming across the bridge from the other side. It was approaching 1pm when the Sunday market in Zévio shut up shop and there was a considerable amount of pedestrian traffic, bikes and pushchairs coming in the other direction. It must have taken us nearly half an hour to cross a bridge about 50-75 m wide! Panniers got in the way and had to be taken off, pushchairs had to be lifted over the top of the bike with infants still strapped in, and bikes with difficulty could just about be squeezed past.
We were in time to buy a few items of food from the market – but it was so hot – probably over 30°C.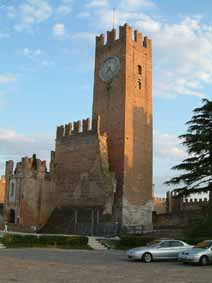 We rested in the shade for a while to recuperate. We then attempted to cycle a bit further and made it to the town of San Giovanni about 5 miles away. Here we rested under the shade of a tree until 4pm. It was still hot but there was a light breeze. Our next aiming point was Villafranca but the signposting of minor roads was non existent. With a bit of help from the locals we started off on the right road and managed to pass through towns marked on the map – the only way we knew we were still on the right road – and eventually arrived at Villafranca at 5.30pm. This was still 5 miles short of our target of Valéggio but we'd done enough for the day.
We then started our search for accommodation. The first place we were directed to was closed and the second didn't open until 6pm. We then bumped into an elderly couple who we asked about other places to stay but their suggestions were at least another 5 miles away. They had just bought a pizza from across the road and recommended us to do the same – we did and it was lovely – time now to make our way to the Albergo (hotel). We eventually found the proprietor and were offered a room for €55, breakfast included. The tandem spent the night just outside our bedroom on the first floor – we just managed to get it round the bend in the stairs half way up! We showered, went for an evening stroll and at 8.30pm went to bed – we were whacked.
The mileage was 28.6 miles making a total of 39.6 miles