Saturday 4th September 2004
Ostíglia to Ferrara
Being in charge of a hotel for the night was fortunately not a bad experience. The cleaning staff came in about 8 this morning and control was relinquished when the signora came back from her house at 8.45 – we had her phone number in case of emergency. The fridge in the foyer was a huge affair measuring at least 6 feet wide and 6 feet tall with locked doors. We had asked if we could put some food in it over night and she had agreed to leave it unlocked for us to enter as necessary even though it had lots of the hotel food items in it.
There was yet another completely clear blue sky when we left this morning – the thermometer in town already said 16°C at 8.45. We paid a quick visit to the veg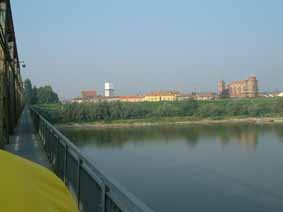 shop to buy bananas, tomatoes and salad and then straight onto the embankment of the Po about 200m from the hotel. This led back to the bridge over the river and we crossed to the south side again. We carried on to Carbonara where we bought bread. Just outside the village is a nature reserve – on an island on the Po which can be reached on foot when the river is low. We left the bike by the road and started walking the 800m or so to the Po where a boat was moored and the path came to an abrupt end. No walking to the island today it appeared and no one to ask about the boat. We returned to the bike, and although only 11am we were already hot and tired. We had stopped for our first coffee of the day at Borgofranco at 9.30 and we were now ready for a second. This was taken at Felónica. Whilst sitting outside the bar a family rode by on bikes with knapsacks on their backs – they looked as though they were off for a picnic. Slightly refreshed we carried on with the intention of getting to Bondeno for lunch about another 15km down the road. At half way we decided that that was too far and started looking for a shady spot by the river. We found somewhere that gave us semi shade but the river here was rather smelly. Then we saw another family cycle past. There must be a better picnic spot close at hand somewhere. Another mile down the road approaching Stellata there was a forest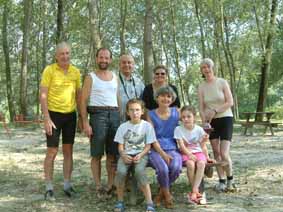 picnic spot with picnic benches and lots of shade – ideal. A family of 4 adults and two children were entering as we arrived. We set up our picnic at one bench – they bagged another bench about 10m away. We had just started eating our tuna sandwich with salad when one of the ladies came across and offered us a pasta salad (plates and forks provided). A little later one of the men brought us some onion bread to try. At this point we discovered that they were a Christian family with an evangelistic background. He could speak very good English. A little later the third course arrived of figgy tart. After lunch we went and talked with them for a while and took photos. They were a lovely family.
It was approaching 3 and it was still very hot. Perhaps we can now make it to Bondeno. We did and soon found a bar – cappuccino for Christine and cappuccino followed by lemon soda (with lots of ice) for me. We were both ready to stop for the day – the target of Ferrara was still 20km away and not an option. We asked the signora at the café about places to stay in Bondeno - she recommended "La Lune" about 8km down the road towards Ferrara. She rang them up and having ascertained the price (€65) booked us in. She then filled our water bottles with iced water – having to put the ice through the crusher so that it would go through the neck of the bottle. Previously she had switched the air conditioning on for us in the bar. We obviously looked as though we needed a bit of pampering. "La Lune" turned out to be a very nice albergo right out in the country – very quiet and peaceful – we won't be going very far tonight. For dinner we made do with left over salad from lunchtime.
Mileage today 32.5 Total mileage so far 207.4.