Sunday 5th September 2004
Ferrara West to Ponté Gradella (Ferrara East)
The plan for today was to have a quiet day in Ferrara which was now only about 10km away and then find a B&B on the far side of town in readiness for the longer ride on Monday to Codigoro. The hotel had a very useful brochure with lists of hotels and B&B's covering quite a wide area in the province of Ferrara which stretches to the coast. Hopefully we can obtain one of these in Ferrara. After yesterdays experience we will endeavour to make sure that most of our riding is done before 12 even if we have to start a bit earlier.
We cycled to Ferrara and fairly quickly found the castle – a very
impressive building. The tourist information was not where our guidebook said it should be – it had moved a little way down the road and was now in the castle. (Again very poorly signed). However it provided us with the B&B brochure we had seen last night and it also gave us some useful maps of the town and province and also of cycle tracks along the Po. All morning was spent in the castle – the information boards were in Italian and English and there was plenty to read. The ticket also allowed us to go up the tower – 122 steps – from which there were good views of the city all around. Yesterday afternoon we had failed to find any shops that were open. It was the same story today and we resorted to a café/restaurant in a park for our midday meal – it was good and not too expensive. We then adjourned to the shade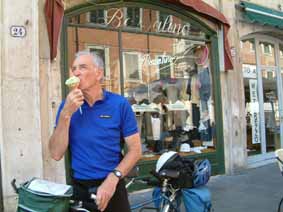 by the city walls for our siesta. Later on we went for a potter on the bike round the centre of the city and market area and I ended up with a lovely ice-cream. We then went for a ride round the city walls – which had a cycle path round the perimeter.
At 4.30 it was still 30°C when we left Ferrara in search of a B&B at Ponté Gradella only a few kilometres outside the town. The first place we tried had a vacancy for €65 and looked a lovely house. We were provided with drinks when we arrived and we were made very welcome. Hubby could speak a little English – he asked us to wait for his wife to return before letting us occupy the room as the beds hadn't been made up. She returned after ˝ hour. We asked about somewhere to eat but were not encouraged by the reply – Sunday "chiuso" closed. He said that there was a MacDonalds about 1km away so in desperation (we are not fans of MacDonalds!) we cycled there to find it was also chiuso. All we had in our bag was 2 cereal bars, 1 banana and a dozen small salad tomatoes. We made do with the cereals bars and the banana!
Mileage today 19.0 Total mileage so far 236.4.