Wednesday 8th September 2004
Pomposa to Porto Tolle
We had another grand breakfast at Pomposa. Italian coffee, milk, fruit juice, water, bread, rolls, pizza, vegetable omelette, herb bread, jam tarts and apple pie together with a choice of homemade jams and Nutella. Again we were invited to help ourselves from the table and make up our lunch. She refused to take any more money in addition to the €40 per night. The family had one small dog and we had spotted several cats – when we asked how many she replied 10 – they were not allowed in the house.
Today's ride will involve crossing several of the branches of the Po as it makes its way through the delta area to the Adriatic. The various branches are quite big and consequently there are not many bridges so the route will be quite devious. We firstly had to travel 10km north to Bosca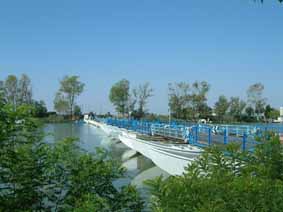 Mesola and then 15km east and then south to Gorino for a pontoon bridge across the Po di Goro. Then we carried on east again, for a kilometre or so, to cross another pontoon bridge at the Po della Donzella. Finally we cycled 15km north to the town of Porto Tolle which is on the bank of the Po di Venezia (the main outlet of the river). We will have to cross this tomorrow. Fortunately we arrived at the information bureau at 12 which officially was closing time and they were able to direct us to an Albergo not far away. This was to cost €50. They also did an evening meal for €11 per person which we tried out later.
We spent the afternoon pottering around and generally taking it easy. Christine got out her sketch pad and did some drawing. The evening meal choice was rather limited and was written out by hand on a scrap of paper. With the help of the dictionary we thought we had unravelled the various dishes – however when the tagiatelle arrived we discovered it came with a pile of mussels. This had been the next item on the list and we hadn't appreciated that they came as one. I have never in my life eaten mussels – I shut my eyes and tucked in. I can't say that they tasted of much. For the second course I took the safe option of beef and chips, Christine opted for fried carp – but it came with more seafood and also a salad bowl. The food did not sit well on the stomach and we both had a disturbed night.
Mileage today 33.2 Total mileage so far 347.9