Days 7 to 9
Vivonne to Montignac
Wednesday 17th May Vivonne to Confolens
Planned Route:
D742 to St Maurice la-Clouère; D741 to Brion;
D102 to L'Isle Jourdain; D8 + D71 to St Germain de Confolens & Confolens;
Distance 45.38 miles
The fire alarm went off in the hotel this morning just as we were leaving our room for breakfast. No one else reacted - who was smoking in their room?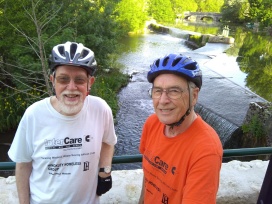 Decided to stop for photos by the river in Vivonne, then after a short climb and a section of main road, we found ourselves on reasonably flat country lanes with virtually no traffic. Our mid morning tea stop was at St Secondin where everybody was very welcoming (handshakes all round).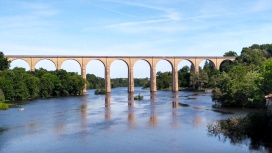 From here it took us just over the hour to reach L'Isle-Jourdain where there is a railway viaduct which dominates the town. Our route actually avoided the town but as lunchtime was approaching we walked up the steep hill into the centre. Half way up we asked for directions to a boulangerie and were guided in English with the comment "They won't serve you unless you cycle up this hill". By now it was very hot - we managed to find some shade in the market place and many people wished us " Bon appetite". We followed this with tea (and in general we have taken to top up our water at each tea stop).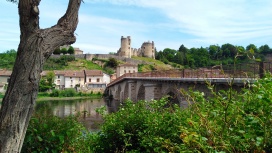 The next section (18 miles to Confolens) was hot and hilly and we were only achieving about 9 mph. At St Germaine-de-Confolens we stopped beside the river La Vienne to photograph the castle on the hill. From here it was only a short distance to our hotel. Madamoiselle made us very welcome and we proceeded to shower - at least that was the intention. TW needed help from Madam as the controls were beyond both of our comprehension. The forecast for tomorrow is 15°F cooler and it has just started raining. These conditions will be ideal for us as we have a 57 mile hilly ride.
The stats for the day were 46.5 miles : 10.3mph : 2398 ft climbed
Thursday 18th May Confolens to Brantôme
Planned Route:
D958 + D59 to Chabanais; D29 + D54 to Rochechouart;
D675 to Nontron; D675 + D78 to Brantome;
Distance 57.41 miles
As we had nearly 60 miles to travel we had an early breakfast and left by 8am. The only disadvantage of this was that the main roads were busy with commuter traffic. The clouds had moved in but it was dry as we left Confolens.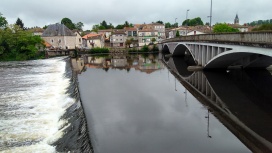 We soon took to the side roads and made good progress reaching Chabanais by 10 where we stopped by the river Vienne to take photos and buy lunch.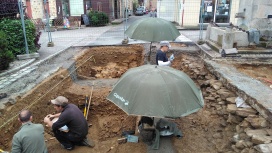 By 10.30 we were in Rochechouart where we stopped for tea. We spotted that the apparent road works in the market place was in fact an archaeological dig. It was probably Roman remains as we had passed a parc archêologique not long before at Cassinomagnus.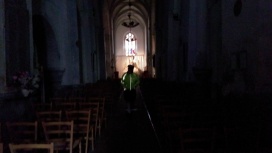 It was a steady climb up to the summit at 1100ft near the village of St-Mathieu - time for more tea here and also for lunch. This was also the half way point of today's ride and of the French trip. While we were taking tea the heavens opened and the only dry place was inside the church. It was a typical French Norman church with narrow windows and so dark that we had to sit by the door.
The remaining 30 miles of the ride was done in often heavy rain with an increasing cold wind on a main road with fast moving traffic and many lorries. Not the best way to spend a Thursday afternoon. We eventually reached the hotel at Brantome at 4.15 wet and cold. They have looked after us very well - wet things have been put in the tumble drier and shoes are drying by the fan heater.
The stats for the day were 58.6 miles : 10.3 mph : 3854 ft climbed
Friday 19th May Brantôme to Montignac
Planned Route:
D69 + Minor road + D4 to Sorges; D74 + D705 to Coulares;
D73 to Tourtoirac; D5 + D62 to St Agnan; D71 to Badefols d'Ans;
D62 to Le Lardin St Lazare; D704 to Montignac;
Distance 49.46 miles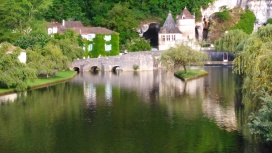 Managed to get away by 8.45 this morning having rounded up our clothes and shoes from the drying room. We had not been able to look round Brantome last night (we were shoeless) so took a couple of pictures as we were leaving.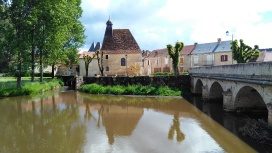 The first few miles were very demanding and after reaching the top the next 15 miles undulated a lot. We eventually reached Sorges by 11 and bought lunch and had a cuppa. The majority of height that we had gained we now lost as we descended to Coulares. Took another picture here of the river and ancient church. We were determined to get to the half way point before lunch but this involved a other big climb. Over the top and down the other side we found ourselves Tourtoirac.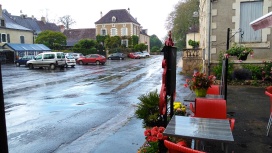 Tea in the restaurant and then just as we were leaving the torrential rain came. The chef offered us (and the bikes) shelter inside the covered terrace. Once the storm had cleared we sat by the river eating lunch. We then pushed on up yet another long climb which went on for about 4 miles to reach a height of 1064ft - but the ride back down was brill. The final 7 miles to Montignac was alongside the river Vézère and we sailed along with the wind behind us hardly ever having to use anything but top gear.
The stats for the day were 51.6 miles : 9.9 mph : 3168 ft climbed