The family of John Cleverly, Mary Ann Bodman and Eliza Alderman
(3xGreat Uncle and Aunts)
Return to previous page Additional Information Pictures Census Return to Tony's Home Page
John's first marriage to Mary Ann Bodman
His Parents:
Her Parents:
George CLEVERLY
John BODMAN
Hannah PIERCE
John CLEVERLY
Mary Ann BODMAN
Married 30/04/1859 at Christ Church, Derry Hill
Bd
Bd
Bp
31/01/1830 St Mary P.C. Calne
Bp
Dd
10/08/1896 Age 66
Dd
Bur
13/08/1896 Yatton Keynell P.C.
Bur
11/02/1865 Derry Hill age 33
Occ
Ag Labourer, Bailiff, Lodge Keeper, Baker, Coal Merchant
Occ
Their Children:

1
Mary Jane
Bd
10/10/1860
2
James
Bd
05/09/1861
3
Sarah Ann
Bd
20/01/1864
4
Emily
Bd
16/01/1865
John's second marriage to Eliza Alderman
His Parents:
Her Parents:
George CLEVERLY
Philip ALDERMAN
Hannah PIERCE
Rachel TANNER
John CLEVERLY
Eliza ALDERMAN
Married 25/12/1865 at Yatton Keynell
Bd
Bd
26/09/1832
Bp
31/01/1830 St Mary P.C. Calne
Bp
21/10/1832 Slaughterford
Dd
10/08/1896 Age 66
Dd
23/09/1883 age 50
Bur
13/08/1896 Yatton Keynell P.C.
Bur
27/09/1883 Yatton Keynell P.C.
Occ
Ag Labourer, Bailiff, Lodge Keeper, Baker, Coal Merchant
Occ
Their Children:

1
Emily Elizabeth
Bd
02/12/1866
2
George Alderman
Bd
06/11/1868
3
Ernest
Bd
08/12/1869
4
Edith Eliza
Bd
31/01/1871
5
John Howard
Bd
06/10/1872
6
Agnes Ellen
Bd
06/06/1874
John Cleverly may have emigrated to the USA in 1852 but he had returned to England by the time of his first marriage to Mary Ann Bodman in 1859.
James the third child of John Cleverly and Mary Ann Bodman does not appear on the 1871 census. There is a death of a James Cleverly registered in Calne Q1 1862 which could possibly be him.
Emily, the fourth child of John and Mary Ann was baptised on 18/01/1865 and was buried at Derry Hill on 23/01/1865. Her mother Mary Ann was buried a couple of weeks later on 11/02/1865 at Derry Hill age 33
John next married Eliza Alderman. Note that his brother James had married Eliza's sister Elizabeth in 1858. Mary Ann Alderman, Eliza and Elizabeth's sister, corresponded regularly with brother Joseph Alderman in Canada. Links to extracts of these letters can be found on Philip Alderman's webpage.
John and Eliza's children were baptised at Derry Hill....
Emily Elizabeth on 21/04/1867. She married Walter Godfrey Maidment Q2,1896. Emily died on 05/08/1955 at East Preston in Sussex. Her husband, Walter, died on 19/10/1945 and is buried in St Paul's churchyard, Chippenham.
George Alderman on 24/01/1869. He emigrated to the USA in 1884 and married Mary Kilpatrick about 1899. Mary Kilpatrick came from Ontario. Mary died in 1939 and George died in 1952.
Ernest on 20/03/1870. He emigrated to the USA in 1888 and married Emily Clara (known as Clara) on 21/11/1894. They had a lot of contact with Ernest's Uncle, Joseph Alderman, and also with cousin Jim Cleverly the son of James and Elizabeth Cleverly. Pictures of the family are shown below.
Edith Eliza on 12/04/1871. She emigrated to USA in 1889 and married ? on 10/11/1894.
John Howard on 25/12/1872. He emigrated to the USA in 1896. He married Marion Eloise Poole on 26/09/1900.
Agnes Ellen on 26/07/1874. She married Roland Henry Whiting Q2,1896.
The deaths of John and Eliza are recorded in the family bible.
Click on the thumbnail to see a larger image.
PICTURES (Click on the Thumbnails to enlarge the pictures)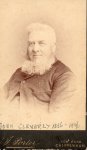 John Cleverly
Note that birth date on the photo is incorrect
Thanks to Ken Maidment for supplying this photo

| | |
| --- | --- |
| | |
| Ernest Cleverly with cousin Mary Alderman, Aunt Merebiah Alderman and wife Clara | Ernest Cleverly with Jennie Cleverly (wife of Jim) Mary Cleverly (wife of Olin the son of Jim and Jennie) holding baby Hazel, Ada Alderman and Mary Alderman (Ernest's cousins) and Ruth, James and Jennie the other children of Olin and Mary. |
CENSUS INFORMATION (For more detailed census info click on age)
Name:
John Cleverly
Mary Ann Bodman
Date
Age
Marital
Status
Occupation
Age
Marital
Status
Occupation
1841
12
1851
21
Un
Ag Lab
1861
30
Mar
Labourer Cowman
29
Mar
Eliza Alderman
1871
40
Mar
Labourer
38
Mar
1881
50
Mar
Baker and Coal Merchant
46
Mar
1891
61
Widr
Baker
Page updated 13/10/2010