The family of Alic Kenneth Hixxon Sanders and Adelaide Jane King
(Grandparents)
Goto Family Tree Additional Information Pictures Census Christine's Home Page
For reasons of security I have not included any information on the daughters of Alic and Adelaide.
PICTURES (Click on the Thumbnails to enlarge the pictures)
This is a picture of my Grandparents, Alick Kenneth Hixxon Sanders and Adelaide Jane King.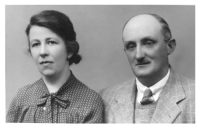 Alick saw active service in the first world war but on returning firstly became a postman and then a milkman in the Keresley area of Coventry.
CENSUS INFORMATION (For more detailed census info click on link)
Page Updated 09/02/09