The family of John James King and Remoth Ellen Jackson
(Great Grandparents)
Goto Family Tree Additional Information Pictures Census Christine's Home Page
His Parents:
Her Parents:
George KING
William JACKSON
Adelaide WAKE
Jane COLES
John James KING

Remoth Ellen JACKSON

Married 05/01/1893 Baginton, Warwickshire
Bd
03/02/1867
Bd
22/01/1865
Bp
Bp
Dd
08/03/1950
Dd
01/01/1954
Bur
Bur
Occ
Occ
Their Children:
1
Adelaide Jane
Bd
30/10/1893
2
Ethel Mary
Bd
23/02/1895
3
George William
Bd
19/12/1896
4
Mildred Ellen
Bd
21/03/1900
5
Mabel Anne
Bd
24/09/1902
2. Ethel Mary married George Stevens. She died in 1946.
3. George William married Wyn ? He died on 26th October 1991.
4. Mildred Ellen married Horace Samuel Hewitt. He was born on 22nd June 1899. Mildred died on 27th February 1974. Horace died on 4th March 1965.
5. Mabel Anne married John Truslove. She died on 20th March 1995
PICTURES (Click on the Thumbnails to enlarge the pictures)
My Great Grandparents, John James King and Remoth Ellen Jackson and their five children are shown in the picture below which was taken around 1910. From left to right - Remoth Ellen, Adelaide Jane, Mabel Anne, George William, Mildred Ellen, Ethel Mary and John James.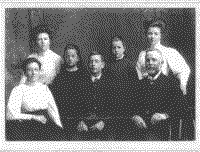 I have also included a later picture of John James and Remoth Ellen which was probably taken in the 1940's possibly at their Golden Wedding in 1943 together with a cutting from the paper of their Golden Wedding.
John worked at Coventry railway station for nearly 40 years. We think that the picture was taken at Coventry Station in 1912.
Other pictures of John and Remoth are shown below
John James taken around 1890?
Remoth Ellen
John James at Coventry station(?) also around 1912?
Back: ?, Brothers John James, Harry, Arthur & Frederick King.
Front: Remoth Ellen, Fanny (wife of Harry), Kate (wife of Fred)
CENSUS INFORMATION (For more detailed census info click on link)
Page updated 10/02/09