The family of William Linnell and Elizabeth Elliott
(4xGreat Grandparents)
Goto Family Tree Additional Information Pictures Census Christine's Home Page
His Parents:
Her Parents:
William LINNELL
William ELLIOT
Sarah KEMP
Rebecca CAPORN
William LINNELL

Elizabeth ELLIOTT

Married 23/11/1790 at Whittlebury Northants
Bd
Bd
Bp
12/07/1767 Green's Norton
Bp
02/10/1770 Luffield Abbey
Dd
Dd
Bur
Bur
10/01/1861
Occ
Occ
Their Children:
1
William
Bd
24/04/1791
2
Rebecca
Bp
24/06/1792
3
Martha
Bp
18/08/1793
4
John
Bp
18/01/1795
5
Martha
Bp
15/03/1797
6
George
Bp
31/03/1799
7
Hannah
Bp
13/07/1800
8
Hannah
Bp
17/01/1802
9
Hariott
Bp
11/03/1803
10
Hariott
Bp
25/03/1804
11
Seely (Celia)
Bp
27/10/1805 Whittlebury
12
Charlotte
Bp
23/04/1809
13
Charlotte
Bp
20/05/1810
14
Richard
Bd
12/07/1811
15
Phoebe
Bd
14/02/1813
16
Mary
Bp
24/07/1814
17
Eliza
Bd
1816
William (Child no. 1) died 1864 in New Zealand
Martha (Child no. 3) died on 14/03/1794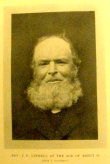 John (Child no. 4) married Elizabeth Mayo. He died on 09/09/1872. Their son (Rev) John Edward Linnell (Celia's nephew) wrote the book "Old Oak" published by Collins in 1932. This is a story about life in Silverstone and recounts some of the family history. A photo of him at about the age of 63 (~1905) is shown on the right.
An extract from the book follows with reference to Rev John Linnell:
His grandmother, Miss Elliott, of Luffield Abbey, a very considerable heiress, eloped with his grandfather, William Linnell of Silverstone; and his father John Linnell, born in 1795, was one of her seventeen children. His grandmother's fortune, divided among so many sons and daughters, only brought a few thousands to his father, and these the latter never added to; in fact they diminished steadily in his keeping, for, easy and generous, he was for ever lending money, with the unhappy fate of all lenders.
Martha (Child no. 5) died 28/06/1819
George (Child no. 6) married Jane Wood. He died on 21/05/1866
Hannah (Child no. 7) was buried on 09/04/1801
Hannah (Child no. 8) was buried on 29/08/1802
Hariott (Child no. 9) was buried on 18/02/1804
Hariott (Child no. 10) married George Mayo. She died on 06/07/1877
Charlotte (Child no. 12) died on 18/07/1809
Charlotte (Child no. 13) died on 28/11/1810
Richard (Child no. 14) died on 12/10/1811
Phoebe (Child no 15) died on 05/06/1813


| | | |
| --- | --- | --- |
| Census | William Linnell | Elizabeth Elliott |
| 1841 | | link |
| 1851 | | link |
Page updated 25/08/07