The family of Giles Smith Tanner and Martha Butler
(2xGreat Grandparents)
Goto Family Tree Additional Information Pictures Census Return to Tony's Home Page
His Parents:
Her Parents:
Francis TANNER
Charles BUTLER
Florida RAWLINS
Sarah HORNE
Giles Smith TANNER

Martha BUTLER

Married 23/10/1843 at St. Andrews P.C. Clifton Glos
Bd
1820/1 Colerne Village
Bd
10/09/1821 Colerne Village
Bp
02/08/1829 Colerne
Bp
06/11/1821 Colerne Independent
Dd
22/01/1897 Sunbury Parish
Dd
30/12/1895 Tetbury
Bur
27/01/1897 Colerne P.C.
Bur
03/01/1896 Colerne P.C.
Will
Court of Probate Will 29/07/1892
Proved 16/03/1897
Will
Occ
Carpenter and Farmer
Occ
Their Children:
1
Albert Edward Smith
Bd
q1,1844
2
Julia Ellen
Bd
q1, 1846
3
Francis William
Bd
08/07/1848
4
Henrietta
Bd
q3,1850
5
Mary Selina
Bd
08/06/1852
6
Sarah Jane
Bd
07/12/1854
7
Aubrey Giles
Bd
08/12/1857
Giles was Christened in 1829 but there is a note in the register to say he had been privately Christened in 1821. Presumably he was ill soon after birth and not expected to live.
On the 1851 census Giles and Martha are living at a house in the High Street next door to Trimlins Farm (now Trunnels Farm). On the 1851 census his mother is shown as living at Smith's Farm. 10 years later in 1861 his mother has moved to Thickwood and Giles is living at Smith's Farm. The whereabouts of Smith's Farm was unknown to anyone in the village - it is shown as being on Tutton Hill in both these censuses. Eventually we traced it to a property on Back Lane - now called Bank Lane. This lane joins Tutton Hill to the road leading down to the old school below the church. The house has now been renamed Bank House. In the mid 1800's Walter Smith owned the Copyhold of this property which I guess is the reason for it's name. Photographs of Smith's Farm are shown on the page for Giles' parents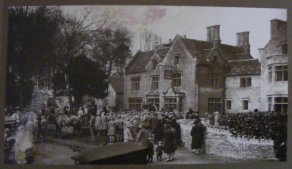 Giles' whereabouts during the last years of his life is uncertain. He was in Tetbury for the 1881 and 1891 census which also covers Westonbirt. We now know that he lived in a cottage just outside Westonbirt in 1881 - a group of buildings known as the Hare and Hound Cottages. It is possible that this is a cottage on the left of the present Hare and Hounds public house which is now known as Garden Cottage (hidden by a tree on this old photo).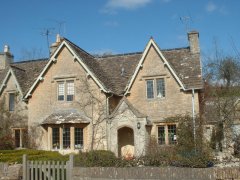 In 1891 he is living with Martha in Westonbirt village - the house is now called the Old Post Office (picture on the left). His wife Martha is recorded as dying in the district of Tetbury in 1895 - but this includes Weston Birt. According to the Book "The village on the Hill - Vol 2" Giles bought Jacques Farm (now known as Ragge Farm) in Colerne in 1893 and on this document he is stated as Giles Tanner of Weston Birt. There is a conveyance document dated 09/11/1893 for property bought by Giles Tanner of Weston Birt from New College. There is a cottage, garden and land (tithe ref nos 149, 158 and 159) on this document near Rooks Nest Farm. The will to which he signed his name on 29/07/1892 says... "I Giles Tanner of Weston Birt in the county of Gloucester Shopkeepeer....."
Children
The first child Albert Edward married Emma Sarah Barnwell q4,1869 in Rugby
The second child Julia Ellen married Alfred Ames in q1, 1867 in Bath which is where they went to live - see 1881 census for Martha below
The third child Francis William and his wife to be, Harriet Williams, emigrated to the USA. They were married in Chicago on 25/12/1879. Their son Herbert Giles Tanner was born in Atchson Kansas on 30/11/1893 and died on 22/12/1967
The fourth child Henrietta married Albert Green in Bath, q4 of 1880. They lived in Sunbury Middx and this is where Giles spent the last days of his life. Albert signed Giles death certificate. Henrietta and Albert came to an unhappy end in 1927. See the link below to Henrietta in the picture section.
The fifth child Mary Selina married Frederick William Allsop in q4 of 1898 in Uxbridge. She died on 14/05/1939.
The sixth child Sarah Jane emigrated to Canada with her husband William Osborne. They were married in Tetbury q1,1887
(Click on the Thumbnails to enlarge the pictures)
| | | |
| --- | --- | --- |
| | | |
| Giles Tanner ~1880's | Martha Butler ~1880's | Martha Butler ~1870's |
See more pictures of Giles and Martha's family by following these links:-
Albert Edward Julia Ellen Francis William Henrietta Mary Selina Sarah Jane
Some of Giles' carpentry tools which still exist today - note that each one has his name on.
For pictures of Smith's Farm where Giles and his parents lived goto his parents web page
CENSUS INFORMATION (For more detailed census info click on age)
Name:
Giles Tanner
Martha Butler
Date
Age
Marital
Status
Occupation
Age
Marital
Status
Occupation
1841
20
15
1851
30
Mar
Master Carpenter
29
Mar
1861
40
Mar
Carpenter and Farmer of 40 Acres of land. Employ 1 man and boy
39
Mar
-
1871
48
Mar
Carpenter
47
Mar
1881
59
Mar
Carpenter
58
Mar
Wife of Carpenter
1891
68
Mar
Grocer and Carpenter
67
Mar
Page updated 21/07/2010